Overview
The OnePower Lesotho Energy Access Fellowship provides opportunities to undergraduate and graduate students as well as young professionals to learn about the energy access sector and acquire hands-on experience in renewable energy engineering design and community engagement.
Fellows are based in Maseru, Lesotho and typically commit to 3-12 months of tenure. For a detailed overview of the fellowship, please click here: Energy Access Fellowship Posting
Pictures of Fellows at Work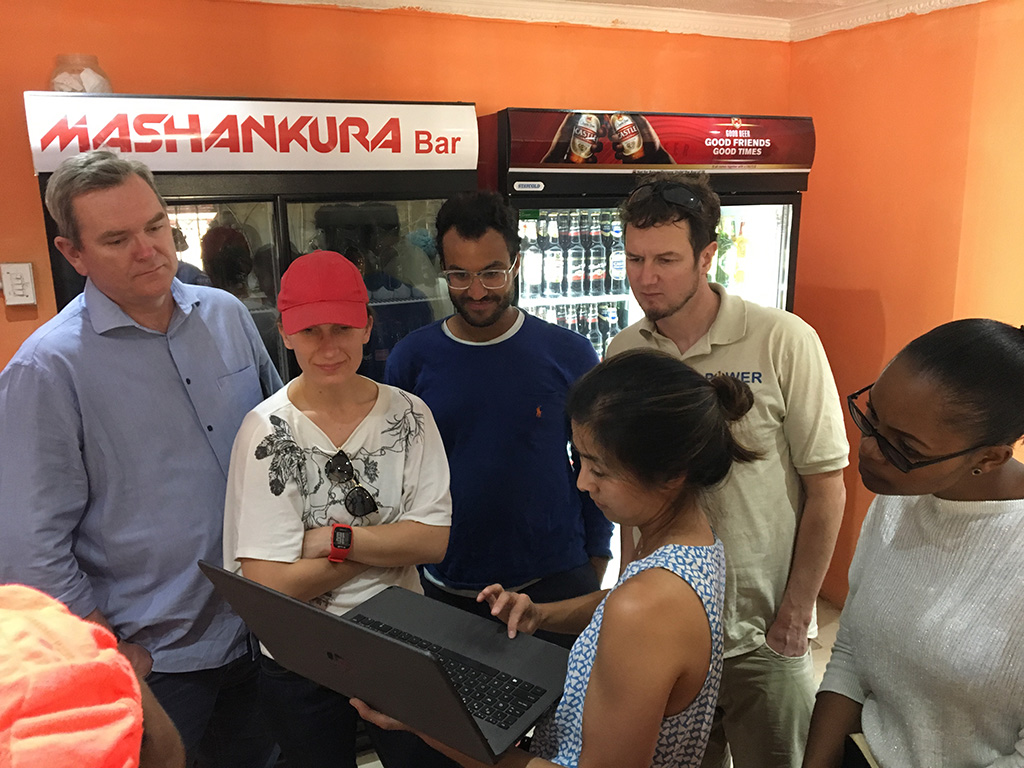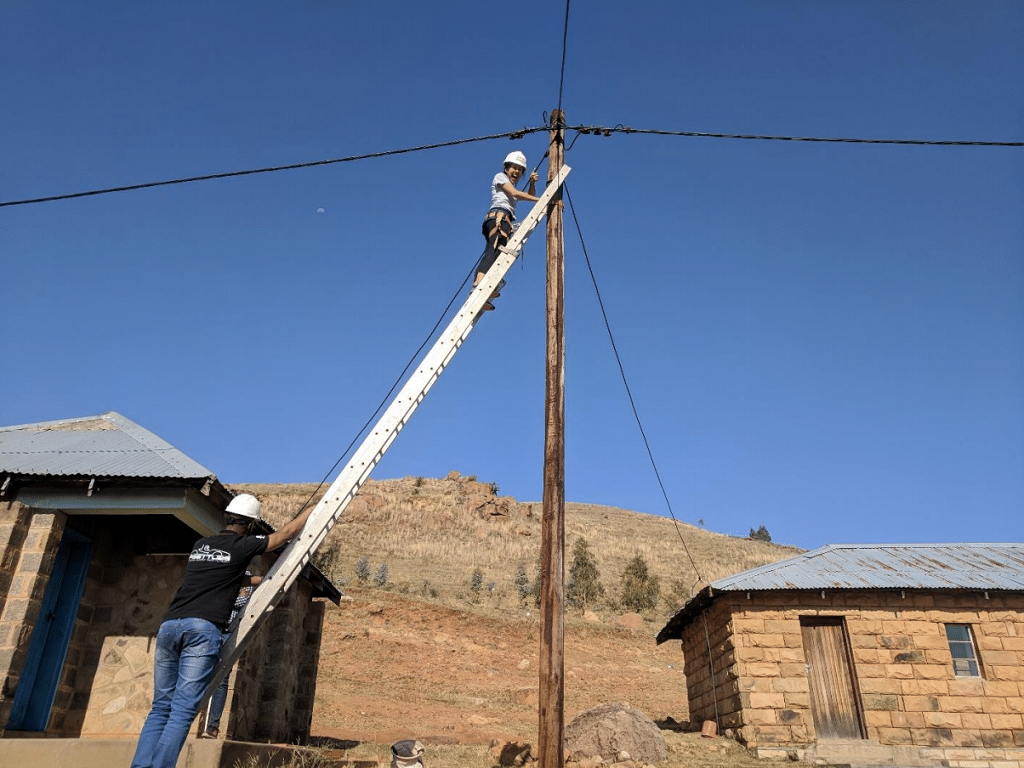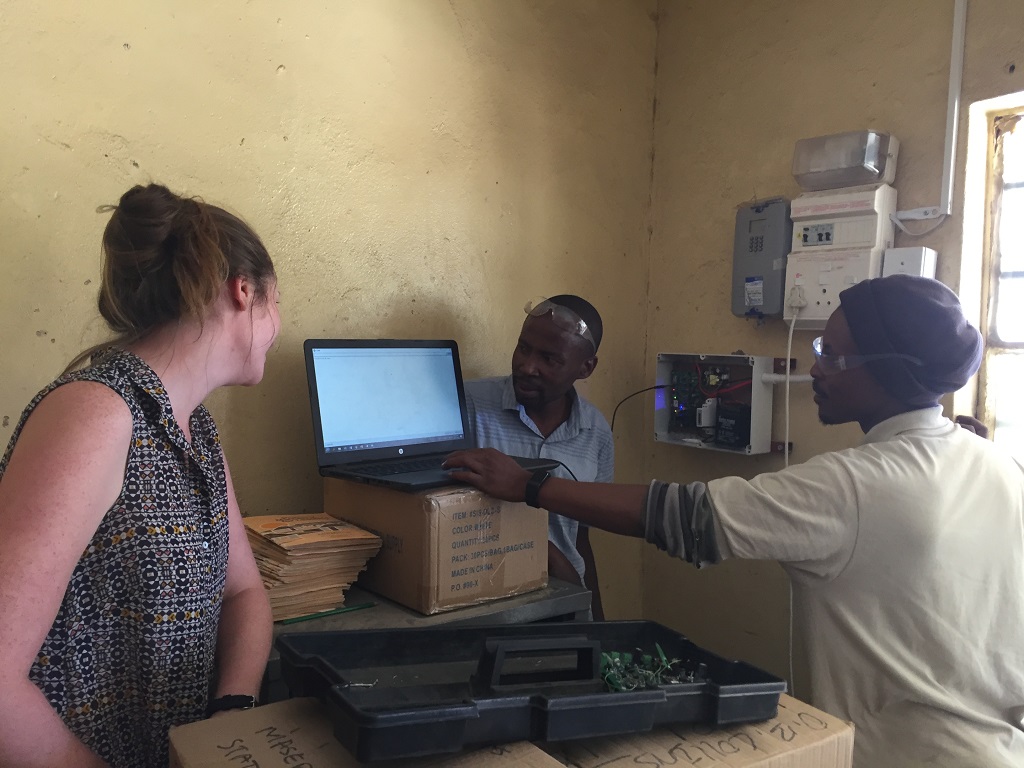 Tarannum Sahar – Fulbright Fellow
Fifth year student in Mechanical Engineering and Economics, Cornell University
Fellowship Tenure: 2020-21
Tarannum is originally from Dhaka, Bangladesh, a beautiful riverine country in South Asia. She has lived in Cote d'Ivoire and Morocco before moving to the United States for college. She is pursuing a B.S. in Mechanical Engineering and a B.A. in Economics with concentrations in energy and environment. Through her involvement with Engineers for a Sustainable World at Cornell, Tarannum developed a strong appreciation for appropriate technology and bottom-up solutions. She is interested in working at the intersection of decentralized systems, sustainable development and energy access. In addition, Tarannum is passionate about refugee rights and has been involved with Cornell Welcomes Refugees since its beginning.
Leloko Monese
Diploma in Electrical and Electronics Engineering,
Lerotholi Polytechnic
Fellowship Tenure: 2020-21
Leloko graduated with a Diploma in Electrical and Electronics Engineering from Lerotholi Polytechnic. He was born and raised in Mohale's Hoek, a rural area of Lesotho in which many communities do not have energy access, and therefore has a keen interest in electricity generation and distribution and bringing electricity to rural communities in Lesotho. Leloko is currently performing his second tenure at OnePower, first as an intern and now as an Energy Access Fellow.
Matete Nkhethoa
Diploma in Mechanical Engineering ,
Lerotholi Polytechnic, Lesotho
Fellowship Tenure: 2020-21
Matete is a mechanical engineering graduate of Lerotholi Polytechnic in Lesotho. He cares deeply about the economic development of rural areas and is very excited by OnePower's mission to bring technological innovation and manufacturing to Lesotho. At OnePower, Matete will be contributing, to manufacturing operations of PV trackers and mini-grid powerhouses.
Lehlohonolo Ts'enoli
Final year National Diploma in Computer Systems Engineering,
Vaal University of Technology
Fellowship Tenure: 2020-21
Lehlohonolo is a final-year student in Computer Systems Engineering at Vaal University of Technology. In the past, he has worked with several companies in hardware and software support and development. At OnePower, Lehlohonolo will be responsible for backend maintenance of websites and servers, support IT infrastructure, and identify database solutions for streamlining OnePower business activities.
Thabo Monoto
BEng Electrical and Electronic Engineering, Stellenbosch University
Fellowship Tenure: 2020-21
Thabo is a graduate of Stellenbosch University. He is passionate about electronics and signal processing, and, to pursue his passion further, he attended irregular and informal meetings in Stellenbosch, and was a member of the Maties Robotics Club. He has been an engineering tutor, where he, among others, helped students obtain a practicable understanding of concepts.
Thabo enjoys a good read and time out in the open. At OnePower, he will be working on the electronic design of the next generation of the OnePower smart meters.
Seema Mofubetsoana
MSc Sustainable Energy, National University of Lesotho
Fellowship Tenure: 2020-21
Seema Mofubetsoana is a graduating student from the National University of Lesotho, and his pursuit into energy related study came naturally as he is a qualified Electrical engineer and was attracted to the idea of alternative forms of energy.
Seema has further been motivated by the fact that there is a heavy reliance on fossil fuels, however there are renewable and sustainable resources within Lesotho which can be exploited not only to counteract climate adverse effects but to also increase energy access to even the most remote villages.
Hence with that passion he has joined OnePower as an Energy Access Fellow to compute load flow analysis on the current Ha Makebe mini-grid design and other planned mini-grids to ensure the designs operate as intended with minimal voltage sags and ohmic losses, thus benefiting OnePower and end-users.
Antonio Garcia Gomez
MSc Sustainable Energy Systems,
University of Edinburgh
Fellowship Tenure: 2020-21
Antonio is originally from Madrid, Spain and has lived abroad in France, India, Ghana, and the UK. He is a recent graduate of the MSc Sustainable Energy Systems at the University of Edinburgh and holds a BEng in Energy Engineering from the University of Huddersfield. From an early age, Antonio has been passionate about improving energy access and renewable energy generation around the world. He has previously interned at an organization in Barcelona which develops projects for water and energy access in Equatorial Guinea. Antonio is a passionate and driven engineer, is excited to learn from OnePower, and is eager to support OnePower's work in improving energy access in Lesotho.
Jonase Nthunya
Advanced Post Graduate Diploma in Public Health Research, James Lind Institute
Fellowship Tenure: 2020-21
Jonase is a graduate of the National University of Lesotho with a Bachelor of Arts on Urban and Regional Planning. He is currently pursuing an Advanced Post Graduate Diploma in Public Health Research at the James Lind Institute, Switzerland. Prior to his fellowship with OnePower, Jonase worked with major institutions in Lesotho's public health sector, including ICAP Lesotho, Partners In Health, JH Piego and the Disaster Management Authority.
Jonase is deeply committed to the UN's Sustainable Development Goals, particularly to its focus on Food, Health, and Well-being (SDG). He believes that expanding rural electrification is critical to delivering high-quality health services to underserved rural populations in Lesotho.
Maphoka Seleke
Montech Institute, Lesotho
Fellowship Tenure: 2020
Maphoka obtained her diploma in Occupational Health & Safety from Montech Institute in Lesotho. Growing up in the Mountain Kingdom has sparked her interest in nature and she has dedicated her career to protecting nature and natural resources while to making health & safety a priority. Her goal is that her work in Lesotho contributes to Lesotho's attainment of at least one of the UN's Sustainable Development Goals. At OnePower, she is focusing on relationships to communities and contributes to community engagement operations and surveys.
Nthabiseng Thakhisi
3rd year BEng Mechanical Engineering,
University of Cape Town
Fellowship Tenure: 2020-21
Nthabiseng is a third-year mechanical engineering student and member of the Institution of Electrical and Electronics Engineer at the University of Cape Town. Based on her experiences in growing up in Lesotho, a country in which rural areas are significantly underserved, she is dedicated to working on technologies to bring sustainable and equitable energy access to rural populations in her home and other developing countries around the world.
Morema Mafantiri
BSc(Hons) Computing, African Leadership University
Fellowship Tenure: 2020
Morema is a graduate of the African Leadership University, Mauritius campus. He has a passion for working at the intersection of technology and startups in Africa. He most recently worked as a founding tech lead for Rwazi, a Mauritius-based analytics startup. He is also a co-founder of VISION Africa, a network of young professionals who are dedicated to building Africa's future through Science, Technology, Engineering, Arts and Mathematics. At OnePower, Morema will contribute to both back-end and front-end of 1PWR's minigrid IT infrastructure.
Josias Molomo
B.Eng. in Electronics, National University of Lesotho
Fellowship Tenure: 2020
Josias Molomo is a graduating student from the National University of Lesotho. He has studied Bachelor of Engineering in electronics with an aim to improve his skills and knowledge in electrical engineering, energy and power systems. Having seen the challenges Lesotho faces in electrification and innovation, Josias has decided to improve the country with innovative engineering methods. He joined OnePower Lesotho in 2020, a company that uses clean sustainable energy to electrify rural villages. In addition, he has been part of communication media platforms since 2018 by joining a local radio station. With the belief that everyone has the right to a good learning environment, he also became part of a local group of educators who offer tutoring lessons to junior students.
Sibongile Sithole
Senior, Arizona State University and Ashesi University
Fellowship Tenure: 2020
Sibongile Sithole is a Final year student currently pursuing a Bachelor of Science's Degree in Mechanical Engineering at Ashesi University in Ghana. In 2019 she was part of the inaugural group chosen to study in Arizona State University (ASU) under the International Accelerated Masters Program. After her undergraduate studies, she is set to do her Masters' Degree at ASU, in mechanical engineering with a concentration in manufacturing engineering. Sibongile Sithole believes that Africa has a lot of potential and that mechanical engineering will be a pivotal tool in the renaissance of Africa. She believes that this can be achieved by shifting from using traditional problem-solving techniques to more innovative methods, which encourage sustainability and responsible use of technology. This, and ethical entrepreneurship will be the driving force in pushing Africa forward.
Sibongile views herself as an instrument of change. She is part of a team called Sankofa and they are working towards solving the electronic waste problem in Ghana by designing and building a mechanical wire stripper that can be used to strip the wires, instead of the current traditional method which involves burning wires. The team pitched their proposal at the International Global Retailer's Challenge in Canada and made it to the semifinals.
Zandile Mkuzo
B.Eng. in Electronics, National University of Lesotho
Fellowship Tenure: 2020
Zandile is a final year student at the National University of Lesotho majoring in electronics engineering. He is interested in building and improving on the systems and devices that are used in everyday aspects of life especially those that will add more value to the lives of Basotho. Furthermore, at NUL he was involved in a research project that studied how to effectively implement sustainable minigrids as aims for Lesotho to achieve 100% electrification rate by the year 2030 as per the UN's Social Development Goal 7.
Obinna Ejikeme
Junior in Electrical Engineering, Harvard University
Fellowship Tenure: 2020
Obinna is interested in power systems, data-driven renewable energy research, and sustainable African development. After an especially impactful visit to his home country of Nigeria, he committed himself to working towards the economic development and independence of African countries. On campus, he started an SAT prep program within the Harvard Society of Black Scientists and Engineers which sends tutors to nearby high schools to tutor students for the SAT test and subject tests. In his free time, he enjoys reading books on economics and spending time with his family.
Merle Nye
Junior in Public Policy and Data and the Environment, Duke University
Fellowship Tenure: 2020
Merle is interested in the intersection of technology and sustainability and the future of transportation. On campus, he has been involved in research projects related to the autonomous vehicles, the U.S. coal industry, and modeling residential energy demand in emerging markets. In his free time, he enjoys finding new trails to run on, books about history, and exploring technology's role in environmental conservation.
Mope Khati
African Leadership University
Fellowship Tenure: 2020
Mope is an Electrical Power Systems Engineering graduate of African Leadership University. He is an aspiring problem solver, passionate about building strategic and innovative solutions to market problems and challenges. At African Leadership University, Mope was an engineering academic mentor and class representative, working with both students and faculty to facilitate the teaching and learning experience for the student body. During his last two years of study Mope worked for Green Yellow Indian Ocean, a renewable energy company that owns and operates a portfolio of solar PV plants in the Indian Ocean. Part of his work included PV Plants remote monitoring, operation & maintenance, and reporting.
Bahlakoana Mabetha
Electrical Engineering, Harvard University
Incoming PhD Candidate in Electrical Engineering, Dartmouth College
Fellowship Tenure: 2019
Bahlakoana is from Mohale's Hoek, Lesotho. He is interested in efficient energy systems and education equality. He has explored his interest in efficient energy systems through research on power electronics for robobees at Harvard where he was an undergraduate. He also did research on concentrated photovoltaics (CPV) at Lawrence Berkeley National Lab. He will pursue research at the intersection of power electronics and renewable energy systems for his PhD.
On the education equality end, he is a co-founder of Selemela, a Lesotho based NGO that aims to provide supplementary academic support to students, particularly those in remote and/or understaffed schools.
Phylicia Cicilio
PhD Candidate in Electrical Engineering, Oregon State University
Fellowship Tenure: 2018-2019
Phylicia is originally from Vermont and is now a PhD student in electrical and computer engineering at Oregon State University. She focuses on the reliability of microgrids, with particular interest in rural environments and communities. She has pursued education and work with the overarching goal of providing sustainable energy for all, ranging from chemical engineering to electrical engineering and working as an energy efficiency engineer.
Ruitian Yan
Junior in Environmental Science, Brown University
Fellowship Tenure: 2019
Ruitian grew up in Beijing, a city full of environmental opportunities and challenges. She is pursuing a Sc.B. degree in Environmental Science with a focus on Air, Climate and Energy. She has a strong interest in energy efficiency and access under the theme of climate adaptation, especially with human-centered designs and renewable technologies. Ruitian also enjoys working with communities on sustainability projects and education. At Brown, she is interning at the Office of Sustainability to implement the largest end-of-year donation program, along with other projects on waste and energy management. Additionally, Ruitian is passionate about culture and diversity. She is the head strategist of Brown China Summit which bridges cross-cultural conversations on campus.
Mamaswatsi Kopeka
Freshman in Public Health and Africana Studies, Brown University
Fellowship Tenure: 2019
Mamaswatsi grew up in Lesotho, and she obtained her International Baccalaureate diploma from the United World College of the Atlantic, Wales, UK. She is interested –and has partaken—in community engagement projects within and outside of Lesotho. Among other ventures, she co-organized a community project in Ha Mokhoro, Leribe, courtesy of the Go Make A Difference fund. The project was aimed at outreach and female empowerment in a village in Lesotho.
Mamaswatsi is passionate about energy distribution in the most remote and marginalized communities, especially the impact that energy access has on families' health (which is contingent on the availability of a constant and sanitary water supply), children's education and further resource access as a consequence.
Rohan Dalvi
Sophomore in Applied Mathematics, Brown University
Fellowship Tenure: 2019
Hailing from Maryland, Rohan is excited by innovation in energy access in developing countries. He hopes to one day pursue clean energy entrepreneurship. On campus, he is the founder of Brown Institute for Policy, a student-run think tank focused on developing policy solutions to problems in Rhode Island. Rohan is a racquet sport enthusiast, an insatiable reader, and a lover of all things food.
Erika Francks – Fulbright Fellow
B.S. in Environmental Studies, Santa Clara University
Fellowship Tenure: 2018-2019
Erika grew up in Washington State in the US, where she often backpacked with her family in the various mountain ranges throughout the state. She currently lives in San Francisco, California and graduated from Santa Clara University in 2017 with a B.S. in Environmental Studies and a minor in MIS. Erika became passionate about off-grid electrification after visiting an un-electrified village while on a fellowship in Kolkata, India in 2015, and returned the following summer to do research for a solar energy social enterprise in the same region. For the past two years, Erika has studied the potential of solar microgrids, and is excited to join OnePower in Lesotho to continue this research.
Bethlehem Taye
Business Intelligence Analyst, Kaspersky Lab
Fellowship Tenure: 2018-2019
Beth received her Master of Science degree in Information Technology with a focus on Management Information Systems (MIS) from Clark University. Upon graduation, she worked at Kaspersky Lab as a Business Intelligence Analyst. While her main role focused on working with the business software tool Salesforce, she also worked closely with different departments to provide data analytics solutions. Beth is interested in learning how renewable energy technologies can be used in areas that have limited resources. This experience will enhance her knowledge of these systems and build a foundation for her future studies on renewable energy technology.
Thandolwethu 'Shakes' Dlamini
Junior in Mechanical Engineering, Duke University
Fellowship Tenure: 2018-2019
Shakes grew up in Swaziland and has been passionate about energy access ever since helping to expand the electricity grid in his home country. He is interested in all things energy, from programming and installing smart meters to working on 66 Kilovolt transmission lines. At Duke, Shakes has been an active member of the community and created the Duke Amandla Chorus, an African choir, for which he recruited 18 members and with which he introduced African music on campus.
Candise Henry
PhD in Earth & Ocean Sciences, Duke University
Fellowship Tenure: 2018-2019
Candise received her Ph.D. in Earth Science at Duke University in 2018. Her research was focused on modeling the influence of externally- versus internally-driven geological processes on coastal morphology and basin architecture for use in oil and gas exploration. She also has an interest in energy systems and has published research examining the impacts of climate change on power production in the U.S.  Prior to her time at Duke, she received her Bachelor's in Earth and Environmental Sciences from Columbia University. Candise was born in Taiwan but currently lives in North Carolina.
Anjali Katta
Junior in Engineering Physics, Stanford University
Fellowship Tenure: 2018
Anjali is a Junior studying Engineering Physics and pursuing an honors in the Center for Democracy Development and the Rule of Law at Stanford University. Anjali is interested in the intersection between technology and development, particularly energy access and mobile technology. Anjali is fascinated by the physics behind everything from micro grids to solar panels. Anjali also cares deeply about women's right and violence against women and is active in many on campus groups that support survivors.
Bataung Mohapi
Junior in Mechanical Engineering, Duke University
Fellowship Tenure: 2018
Bataung grew up in Lesotho, well aware of rural electrification hurdles that the country faces. Bataung is a Mechanical Engineering and Aerospace Certificate student at Duke University. At Duke Bataung has been a part of two research groups that seek to develop affordable new technology for renewable electricity generation: Dr. Stiff Robert's group and Dr. Hotz's group. Bataung also has a keen interest in mobile power systems such as jets and electric cars.